Stay home Stay safe Save lives
James has been learning some new skills. He has been working really hard with his pony. Watch the video below to see him do his first canter.

Well done James. That is amazing. Keep it up. Can't wait to see what you can achieve next.
It looks as though you are having a lot of fun Kallie. Great to see what you have been getting up to. I'm sure you have loved playing outside and enjoying the fresh air. Was the sea not ice cold? Brrr. You are braver than me.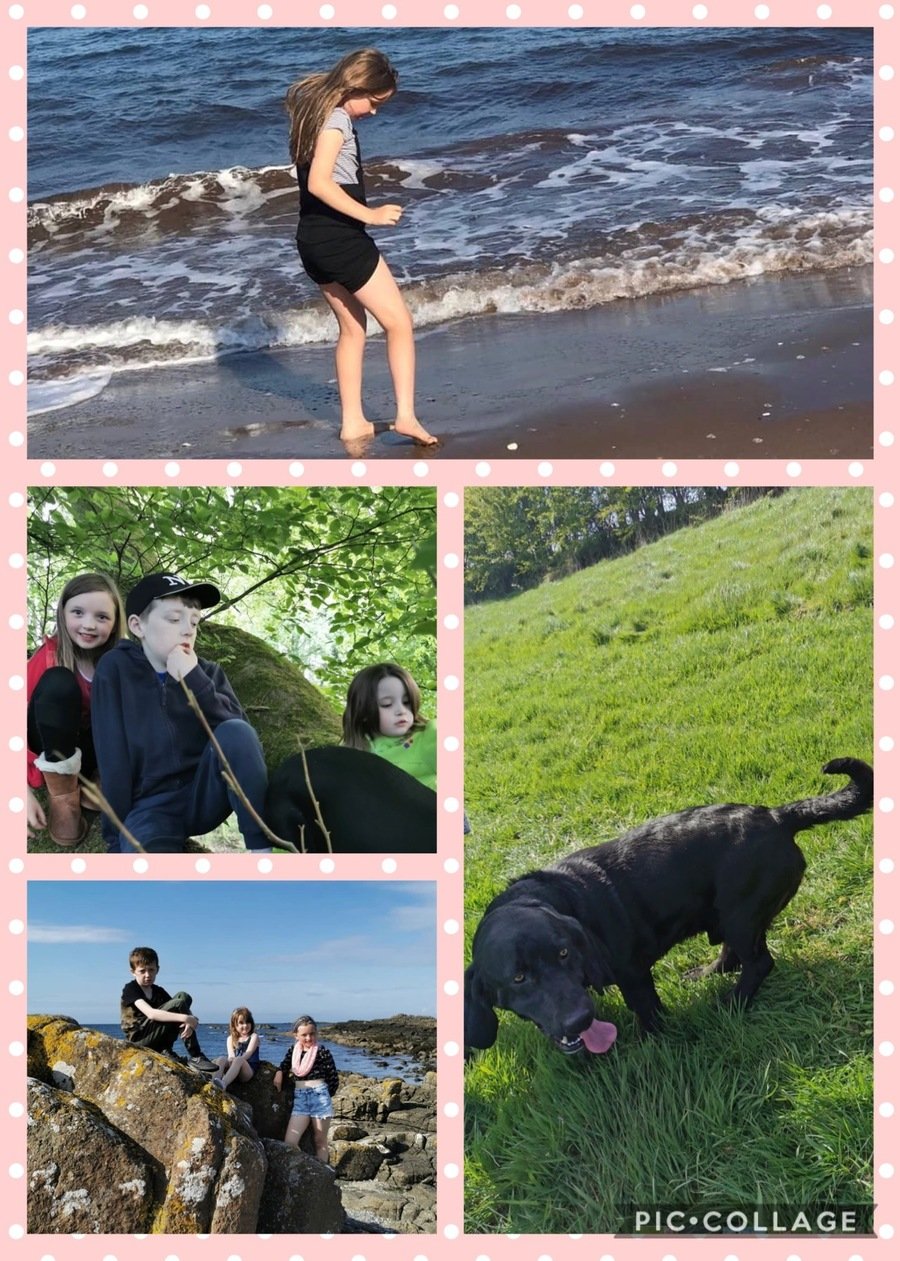 Sienna has been practising her skills for the Virtual Sport's Day. Good girl. Keep it up!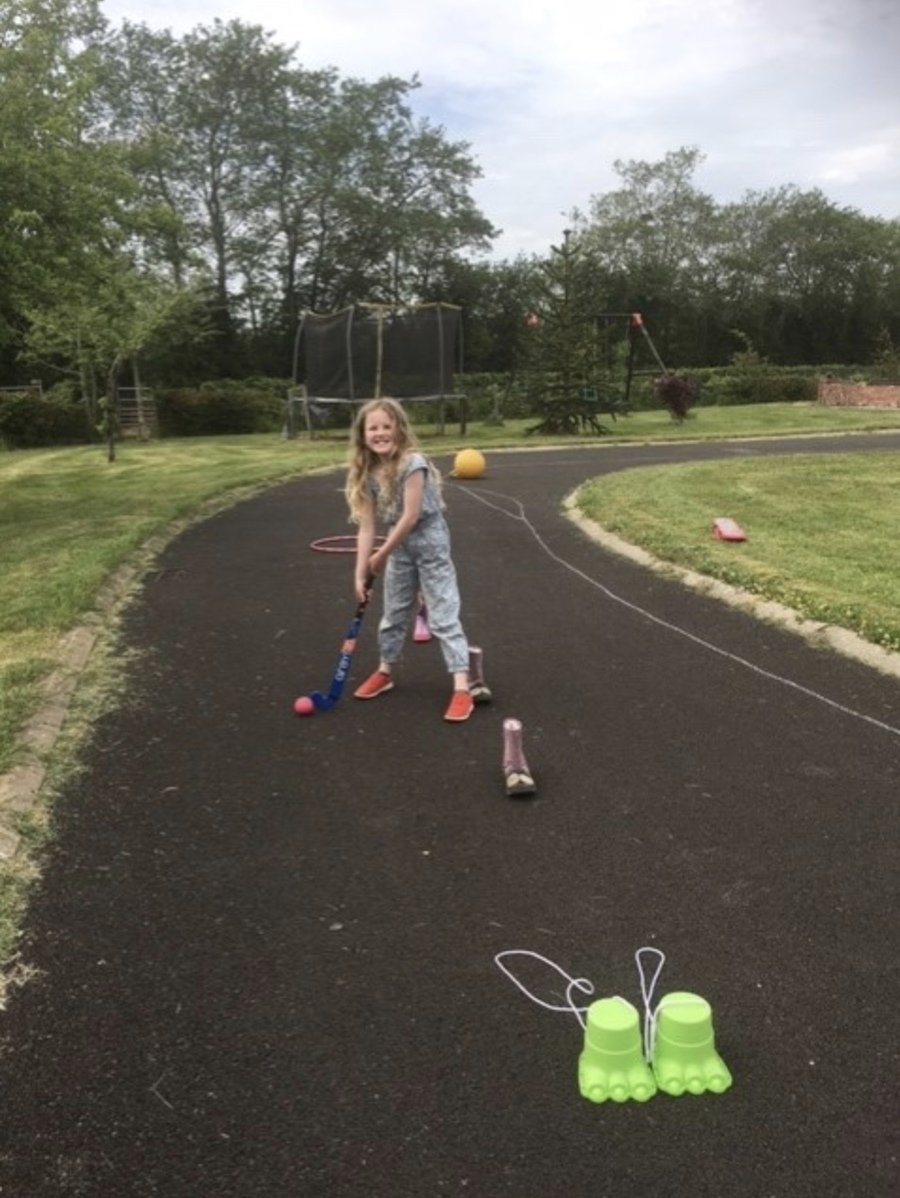 What a great obstacle course you have made Ella. I love all the different objects you have used. Great thinking. This will definitely keep you fit. Keep at it.
AMAZING! This is absolutely fantastic.

Before we all had to stay at home, Penny had been reading Harry Potter in school during silent reading. While in lockdown she has managed to read the entire Harry Potter series. She was then inspired to create her own Hogwarts model from the recycling and now loves Harry Potter so much it was the theme to her birthday celebration as well. I hope you had an amazing time celebrating your birthday.


My two children love craft and coming up with ideas to make a mess. Recently we made butterflies for the garden using paint and glitter, bugs from salt dough (sooo much mess) and my little boy is finishing off his bug hotel.
Have any of you made anything special or interesting lately? If you have I would love to see the finished product - successful or not. Haha.
Hope you are all well and keeping safe.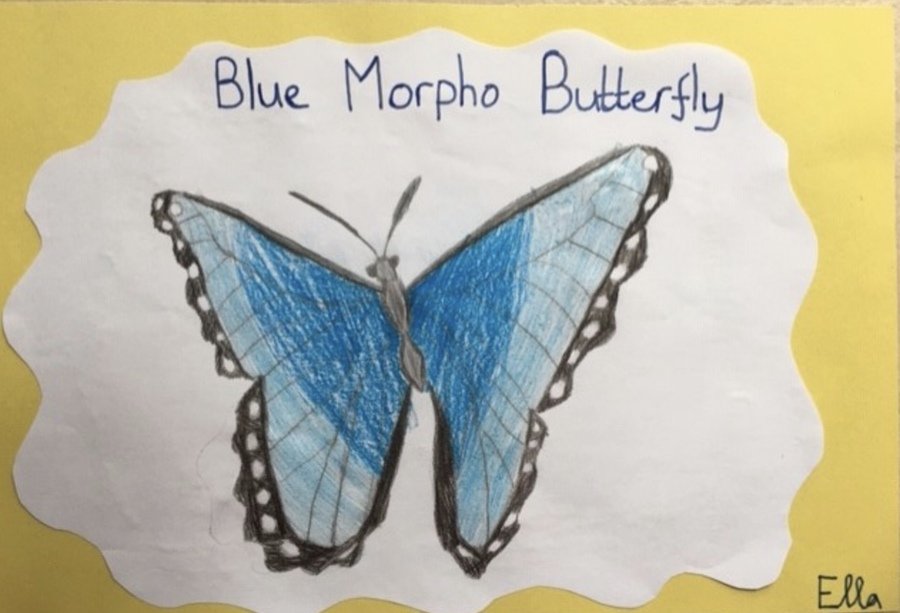 What a brilliant drawing of a Blue Morpho Butterfly Ella. I love the colour and the detail you have added. This would be amazing to see in real life. Well done!
This Friday (8th May) we will be celebrating the 75th Anniversary of VE Day. As we studied the Second World War this year you will hopefully remember some interesting facts about this day. I would like to set you the task of making your own WW2 plane out of junk art. You can choose whatever plane you like. Perhaps a Spitfire, Lancaster Bomber or Hurricane.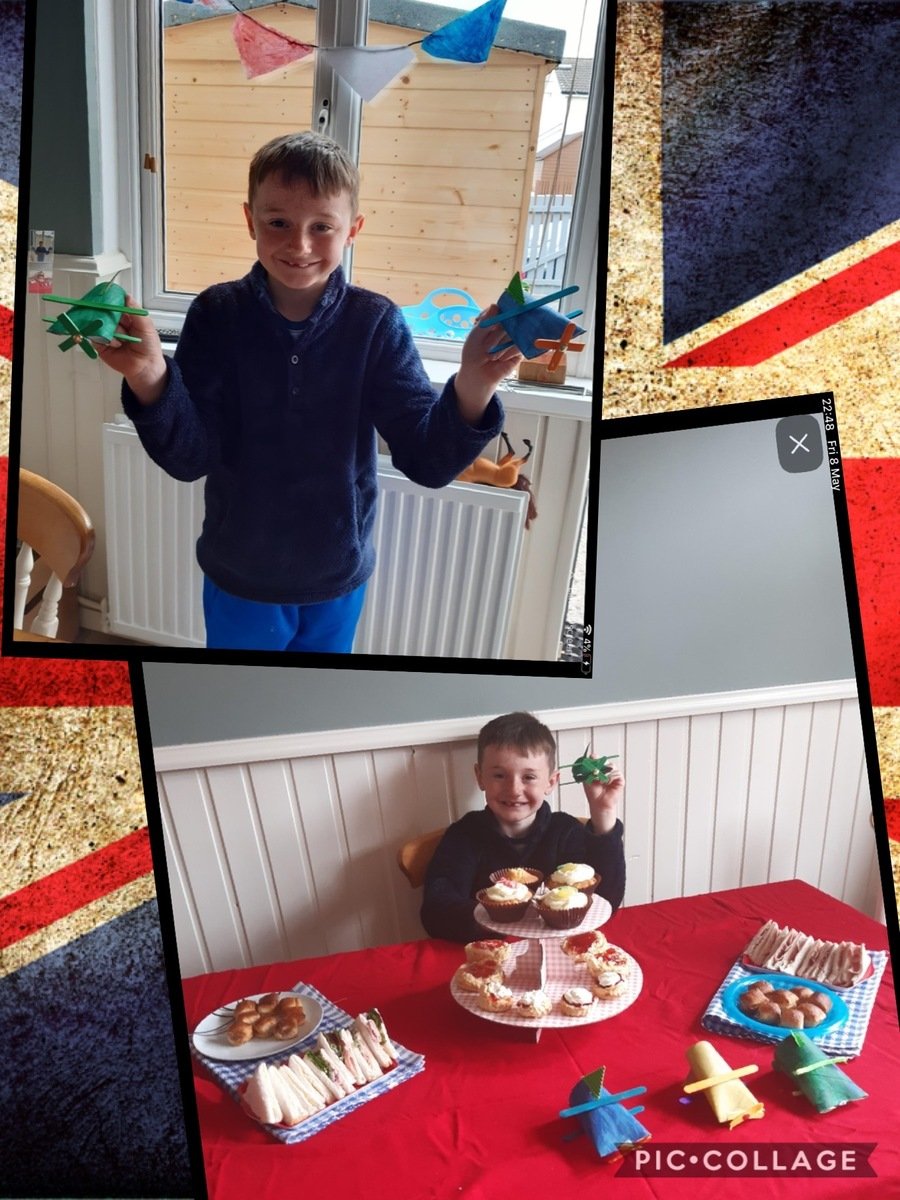 Matt went all out to celebrate VE Day. He was busy making delicious treats for his street party and finished off by decorating the house with homemade bunting and planes from junk art. Very impressive.
What an amazing Lancaster Bomber Penny. The colouring and detail is fantastic. I can just imagine it flying over head. Excellent use of junk art. Well done!

Look at Ella's fantastic air raid scene with a flying Spitfire made from an old cereal box. Great imagination. Hope everyone is in their Anderson shelter or somewhere safe. Great job!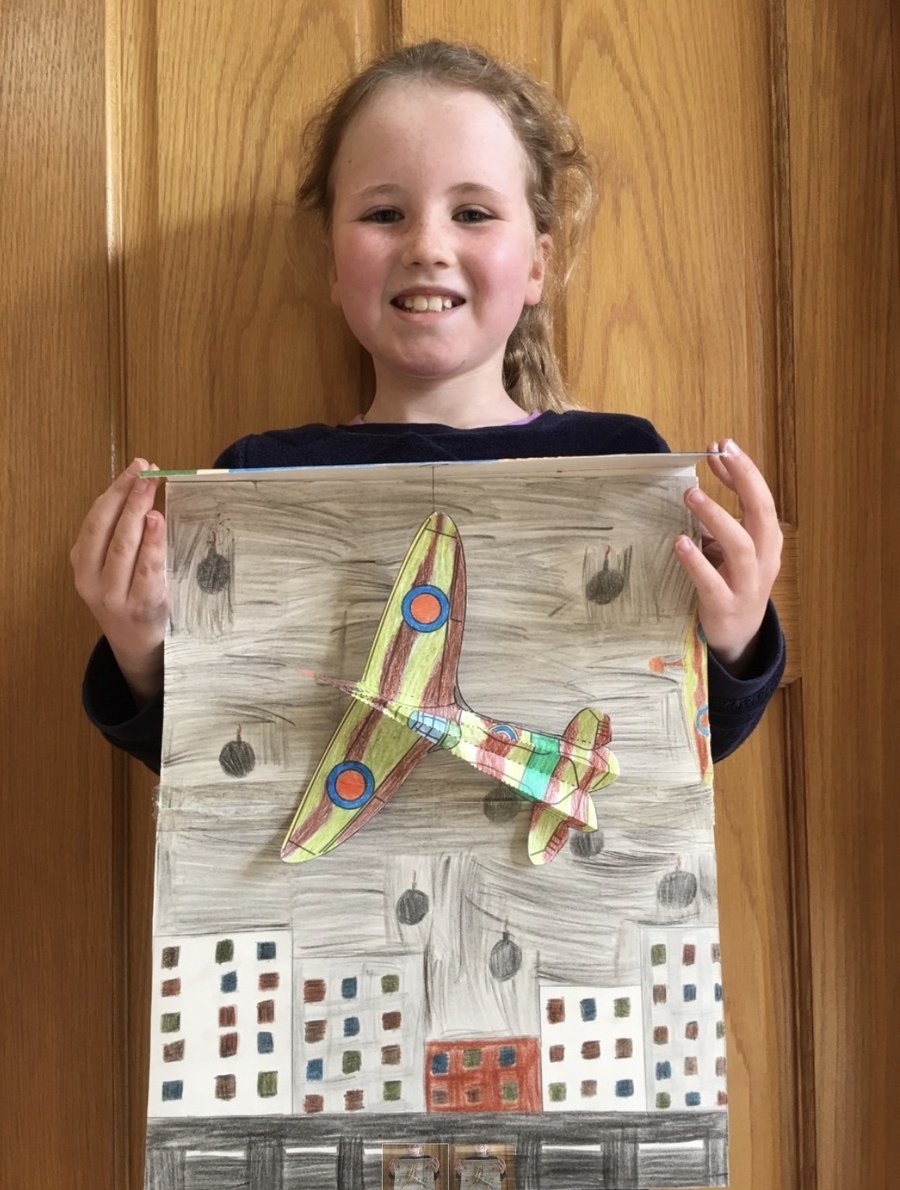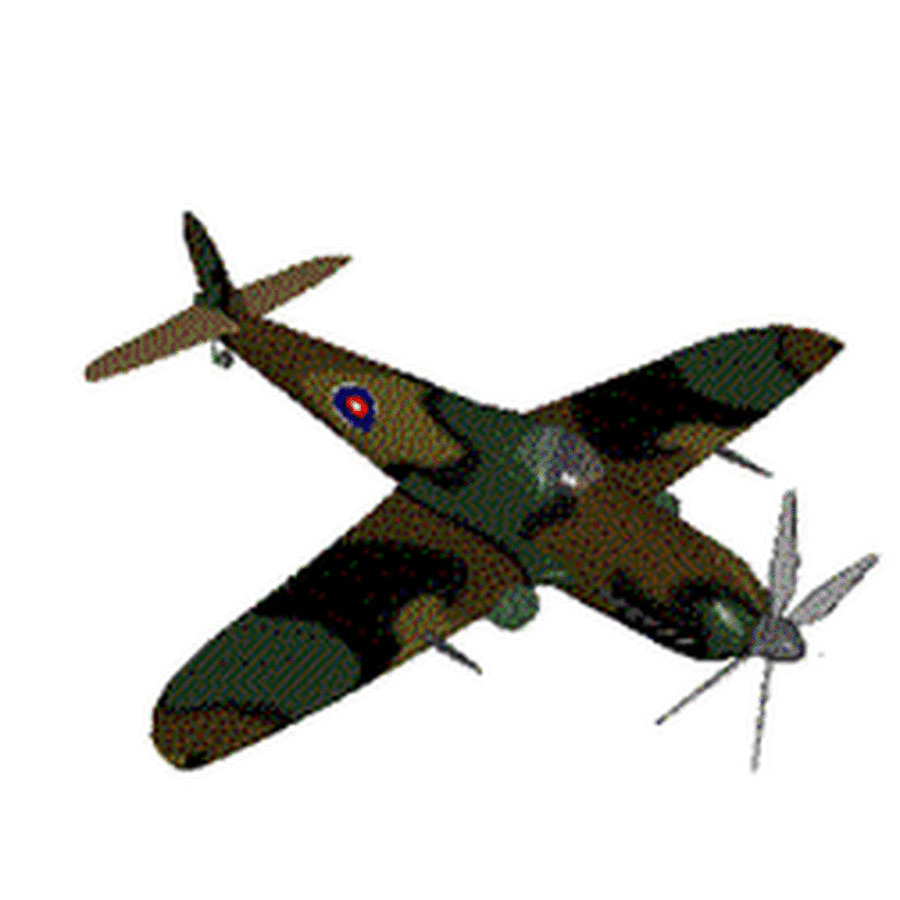 If the weather is nice on Friday you could even have your own street Party in the garden, your hallway or anywhere you have space. You could also YouTube Glenn Miller, Vera Lynn, Flanagan and Allen or the Andrews Sisters to give it a more authentic feel.
Have fun.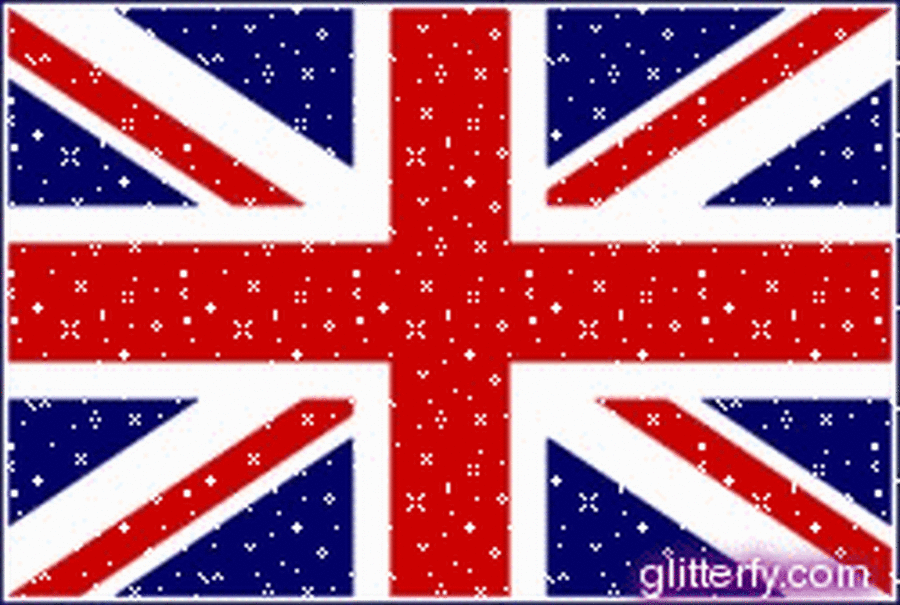 Olivia, Isaac and Harry have been getting up to all sorts during lockdown. It looks like you are having a lot of fun. The buns look delicious. Yum!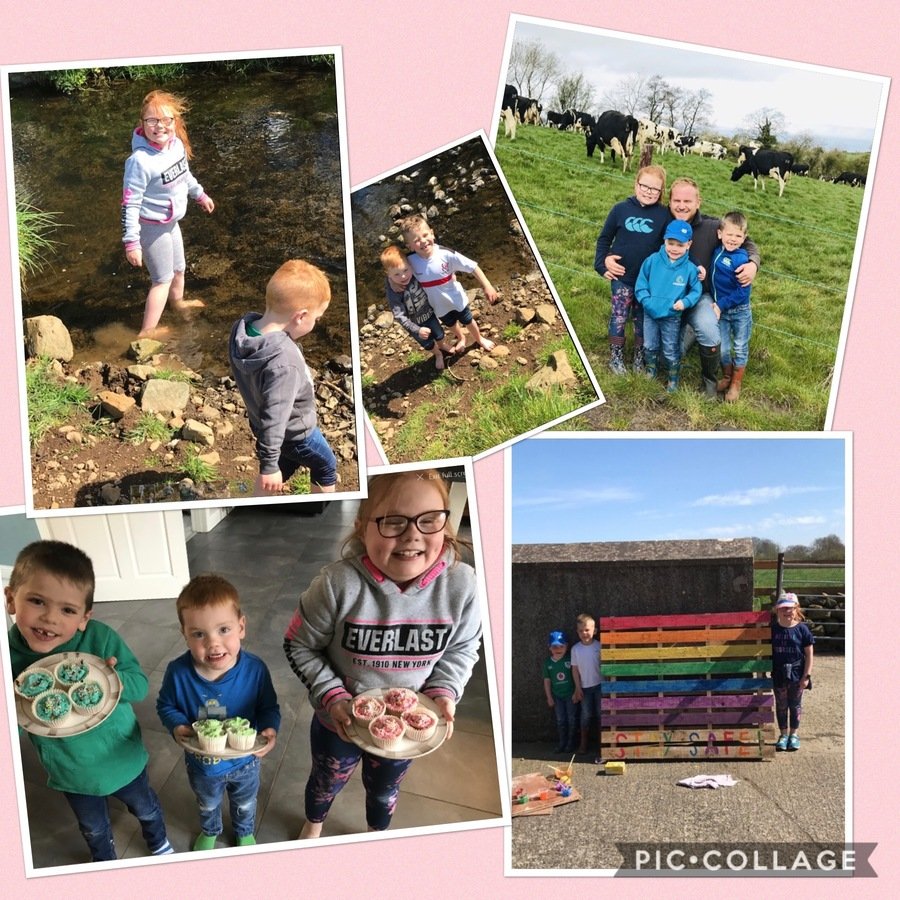 WOW! What a great job bagging up all that rubbish. Glad to see you are being so helpful at home.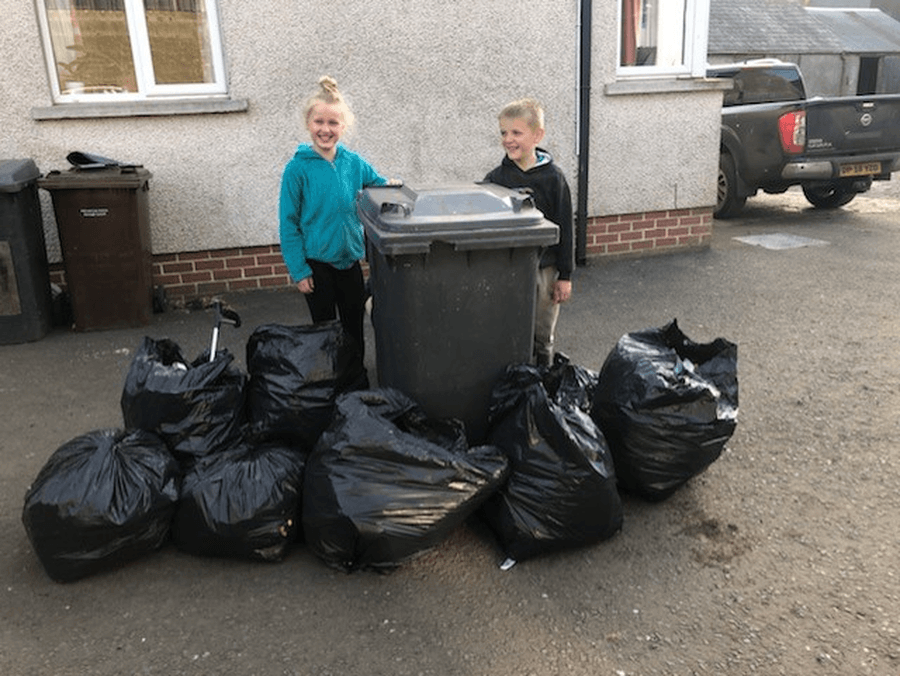 Hi everyone. Hope you are all well, keeping safe and are being kind and helpful to everyone at home. Have you been enjoying the amazing weather and getting lots of fresh air? We have been out everyday on our bikes or going for long walks to see what we can find. If it's wet then we find muddy puddles to jump in.
How have you been getting on with working at home? Are you enjoying finding out information about the Rainforest? I would love you to draw your favourite Rainforest animal and send it in so I can post them onto the website. Can't wait to see what you come up with. Let us know if you have been up to anything really exciting or different.
Take care everyone. Look after yourselves and keep safe.
Look at this amazing poisonous tree frog Alfie drew. He has captured all of its features so well. Great job Alfie.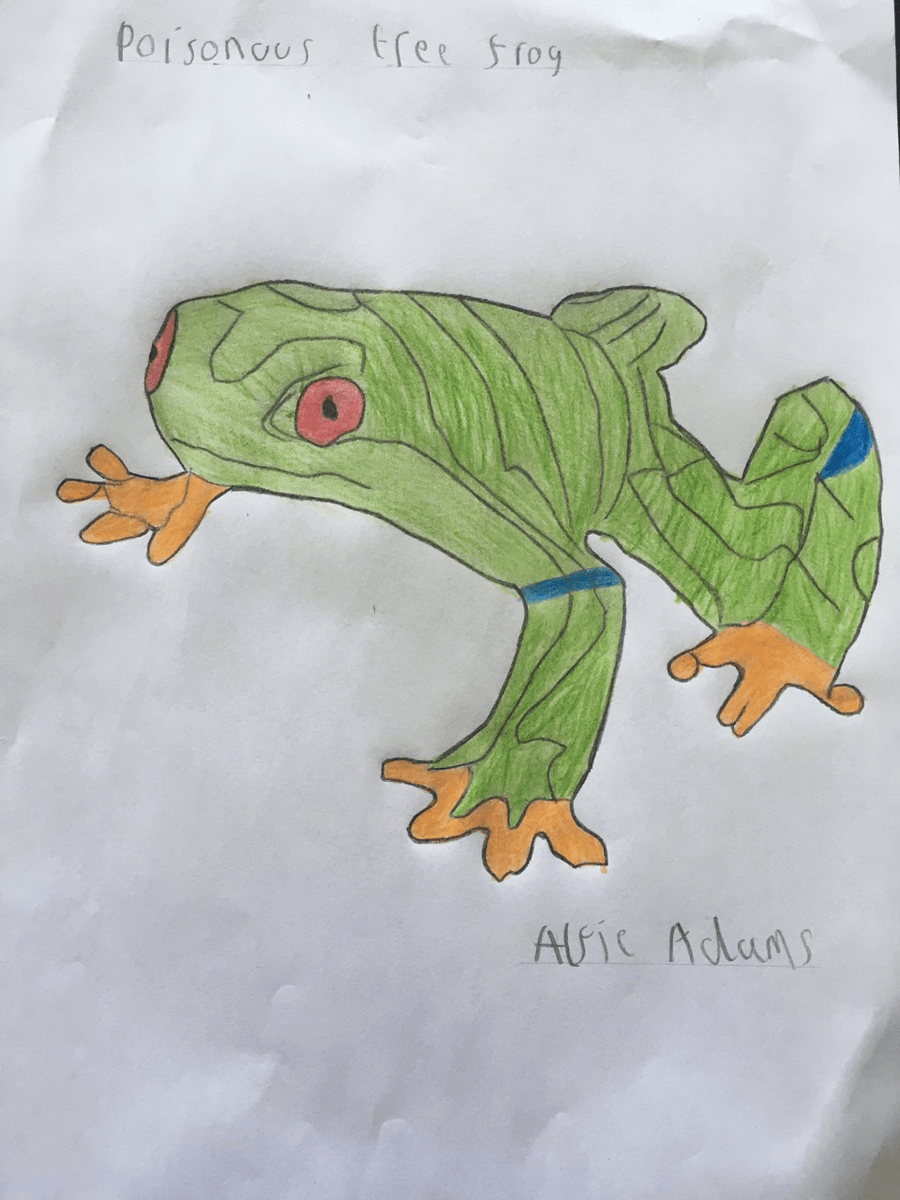 Welcome to our class page. We are looking forward to learning about lots of exciting and interesting topics.
We are currently learning about World War 2. The children have loved using the iPads to research information about the war, what countries got involved, how long it lasted and how it ended. As well as this they have been very creative at recreating some essential items needed during the war.