Primary 3 & 4
Welcome to P3/P4. This term we have been doing amazing things in our class. We began the year by looking at ourselves. We talked about our likes and dislikes in food, sport and colour. We realised that even though we are all different, we work together as a fantastic team!!!
30th June
Well boys and girls, we have come to the last day of the school year. It's hard to believe that this is your last day in P3/P4 class. In September you will be in your next class with lots of exciting things to learn. I hope you remember the things you studied this year, in literacy, numeracy and the world around us. I also want you to remember the other things we have learnt this year- how to be a good friend, how to be a team member in your class and how to respect other people and their opinions, even when they differ from yours.
I want to say a big thank-you for the lovely gifts your gave me. The vouchers will be really useful, the flowers brightened up my home and the edibles will be enjoyed with a sneaky cup of coffee when no-one is looking!!! There were also some other lovely gifts for Mr Hutchinson and I to share which are already set up in our house.
I especially enjoyed the little cards you wrote and the personalised messages. I always enjoy reading those when children give them to me. A big thank for them all.
It has been my pleasure to teach you and to get you know as a little person. You have all left a big impression! I trust you were happy with the reports you got, which Mrs Campbell and I spent a long time on. If there were parts which you think you could improve upon, use next year to challenge yourselves and see if you can do better.


Enjoy your holidays. I hope you get to spend time with your family and even your friends even if it is within a safe distance. It would be good to get away to the beach or park for a day or two and you may get that too. Even if you are at home you can still have fun. Be good and enjoy your holidays. Best wishes for next year.
Week beginning 22nd June
Good afternoon to all the boys and girls in P3 and P4. It is so hard to believe that we have come to the last full week of term. If we were in school now there would be no homework and a lot of tidying up to be done! We hope you have enjoyed your year, although it was quite different in many ways. We also hope you have learnt many new things and feel ready for the next year ahead in September.
Please use this week to finish off your work packs and tidy up any loose ends which are still outstanding with your numeracy and literacy. If you have any work not completed from pack one try and get it done as well. That will keep your brain alive and help you next year.
Enjoy your holidays but do try to read a little. It doesn't have to be a set reading book, just something in your house, maybe a comic or magazine or fun book you have. We should all be reading a little to help us stay alert and keep us up to date.
Try to spend time with your family doing some fun things in the next few weeks- walks, games, baking or maybe even gardening. If we see you us out and about over the summer make sure you say hello. We would love this hear what you have been doing.
Most importantly enjoy your time off and stay safe.
Your schoolwork and reports are ready for collection, which your parents know about.
Best wishes for next year and we have enjoyed teaching you. We will miss you.
Final pictures of sports day. Look at Carly and her sister doing her egg and spoon race and throwing the wellie boot. I hope you both obeyed your referee!!! It looks exciting girls and I'm sure you had lots of fun doing so.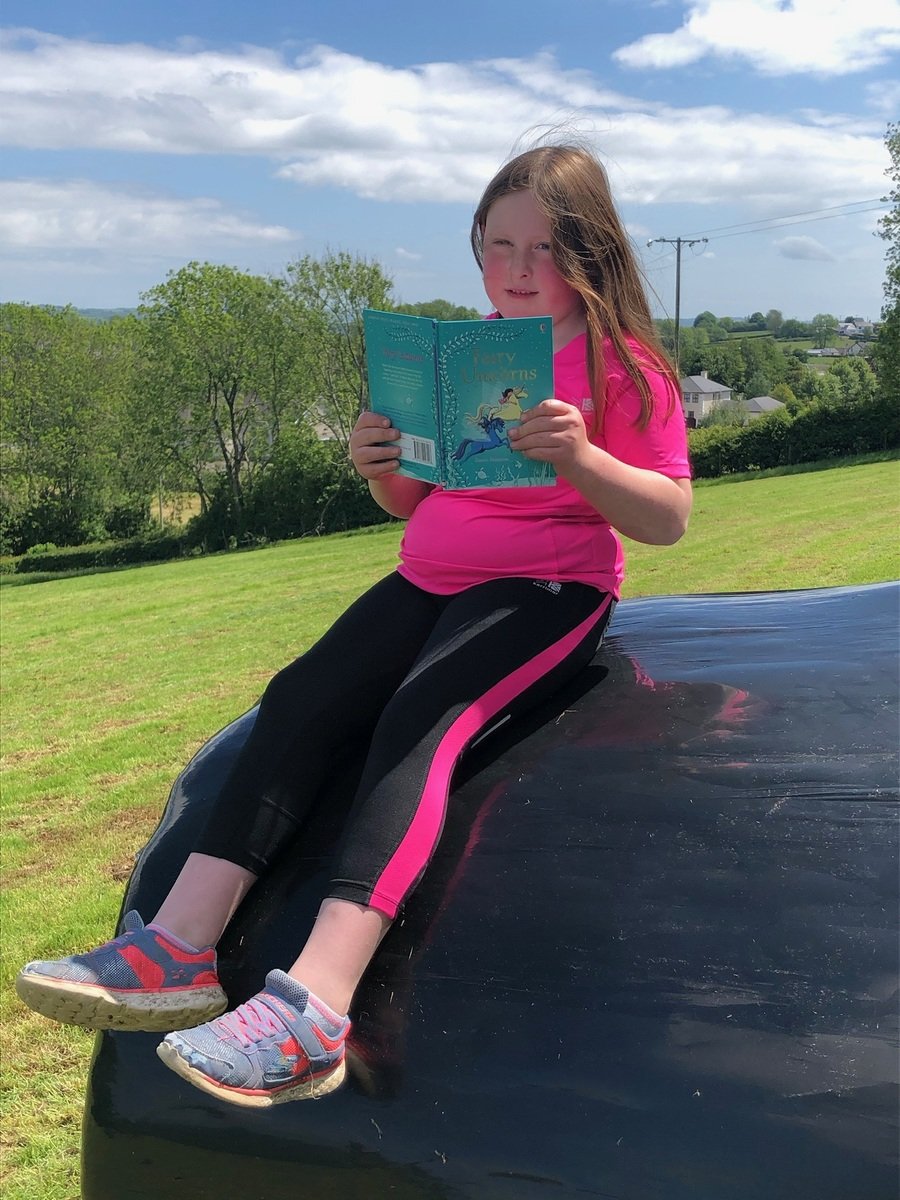 Reading is so much fun and so educational. Holly is reading one of her favourite books in an unusual place-the top of a silage bale. We look forward to you telling us all about it when you come back to school.
Week beginning 15th June
Good morning to all. Wasn't yesterday a wonderful sunny day? Remember when it is so hot we need to SLIP on a tee-shirt, SLOP on some suncream and SLAP on a hat to protect ourselves.
However we still have some school work to do as well as getting outside to play. You should be halfway through your second pack by now. Keep doing the following activities:
Spelling revision every day.

Table revision every day.

Numeracy booklets- Fractions, Time and Shape for P3 and Weight and Capacity for P4.

A grammar activity every week.

A comprehension activity every week.

A writing activity every week.

Some form of reading every day.
Well done to all who took part in our virtual sports day. Congratulations to Tom in our class who was in the top three. Well done to everyone who took part in the event. If you have any photos of you participating send them in and we can get them uploaded.
Perhaps you have a joke you could share with the class. Send it in and we can put it on the webpage. We all like a little laugh. Be good and stay safe.
Week beginning 8th June
Good morning to everyone in our class. I hope you were able to enjoy the good weather at the beginning of last week although it did change into colder and darker days a little later on. However all gardens and farms need a little rain too. Let's hope that the sunny days return soon!!!
I hope you are getting on well with your work pack. If you are still making your way through pack 1 you should be getting to the end very soon. If you are working on the second pack, keep checking the cover note in your pack to see the exact booklet or activity you should focus on this week.
Remember each week you need to try and do the following:
Spelling revision

Table revision

Numeracy booklets

A grammar activity

A comprehension activity

A writing activity

Some form of reading
If we were in school we might be doing some really fun things soon. I know it is hard to keep motivated or stay on task at home but all boys and girls from all schools are feeling the same now. Hopefully next year things will be a little easier. If working on the computer or work packs we must try to do our best. If you need help try to find a good time to ask parents for help; they too are busy working at home.
Be good and keep sending in photos!!!!
Tom has painted a fantastic picture of The Giant's Causeway. It looks to be a sunny day Tom. How pleasant! We love how you have used different shades for the rocks and also for the sea. You remembered to add your name as well which all good artists do. Maybe you could paint another picture which we could frame and display in our room.
Week beginning 1st June
Hello to all of our friends in P3 and P4. By now you will have got your second pack of work to be done at home, if you requested one, and had time to look through it. Look carefully at the instruction note inside it. That will help you focus on the work to be done each week. You will see that these packs are primarily revision packs consolidating work we have already covered this year. You should be able to do most of the activities by yourself or with a little guidance from a grownup at home. If you are totally stuck let Mr Hutchinson know, who in turn will contact us and we will get help to you. Remember each week you need to do:
Spelling revision

Table revision

One or two numeracy booklets

A grammar activity daily

A comprehension activity

An independent writing activity

Some reading- books, comics, e-books or online reading exercises.
It is also important that you do other activities as well. Perhaps you could do some construction work with toys, such as Lego, that you might have at home. Maybe you could do some gardening or baking with an adult. You could also tidy up your room or look over old toys - ones you used to play with but no longer use.
Find one useful thing to do each day and we don't mean pester your parents or eating something from the treat box!!!!!!!
It is also important to get some exercise each day by yourself or with your family.
Keep sending us your photos. We love to see them and will post them on the website. You might even tell us about what exciting things are happening at home or show us some good work you have done. We love to see what you are up to.
We will update our page at the beginning of each week. Be good and we look forward to seeing you soon.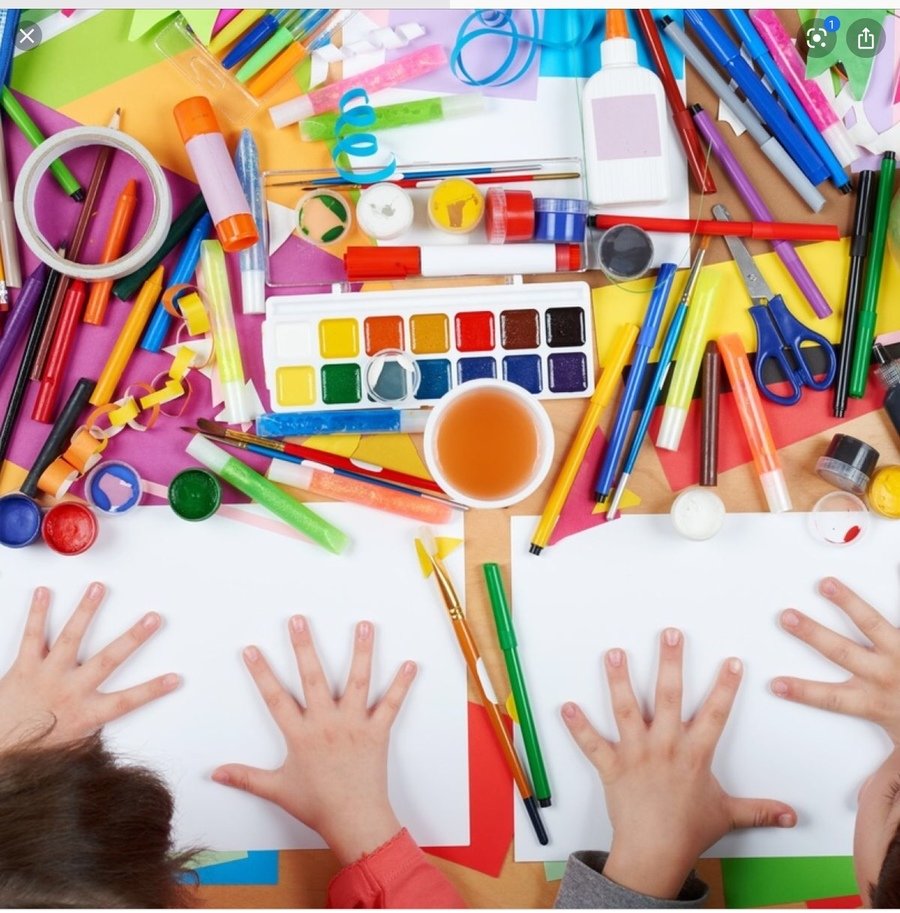 Be creative today. Try something new and exciting!!!!!!!!
Week beginning 18th May
Good afternoon to all the boys and girls in Primary 3 and Primary 4. We trust you are all keeping well. We have now been off school for 8 weeks, which is a long time- the same as the normal summer holidays. We hope you are keeping up with your school work and still getting outside for exercise and fresh air.
Mr Hutchinson has been in touch about getting more work. I'm sure all pupils will be delighted about that!!!! Thank you to all parents who have already replied. If you have not, don't worry, you can still do so. If you don't need any more work that is fine. We appreciate that in these unique days all families are working at a different pace and in a different way. Some families are supplementing the packs sent home from school with outdoor experiences and practical activities at home.
Use the next two weeks- up to 29th May, to finish the first packs you were sent home. You can complete the maths activities and the literacy activities in your own way.
There will be a cover note in your new packs explaining that the new packs are primarily revision packs, the type of work we would be doing if we were in school at this moment. Please use them to consolidate work done this year. There will be an assortment of maths activities and literacy activities.
Please keep sending us your photos and we will upload them to our page. From now on the most recent photos and information will be at the top of the page.
Stay safe and be good. Keep up with all your good work!!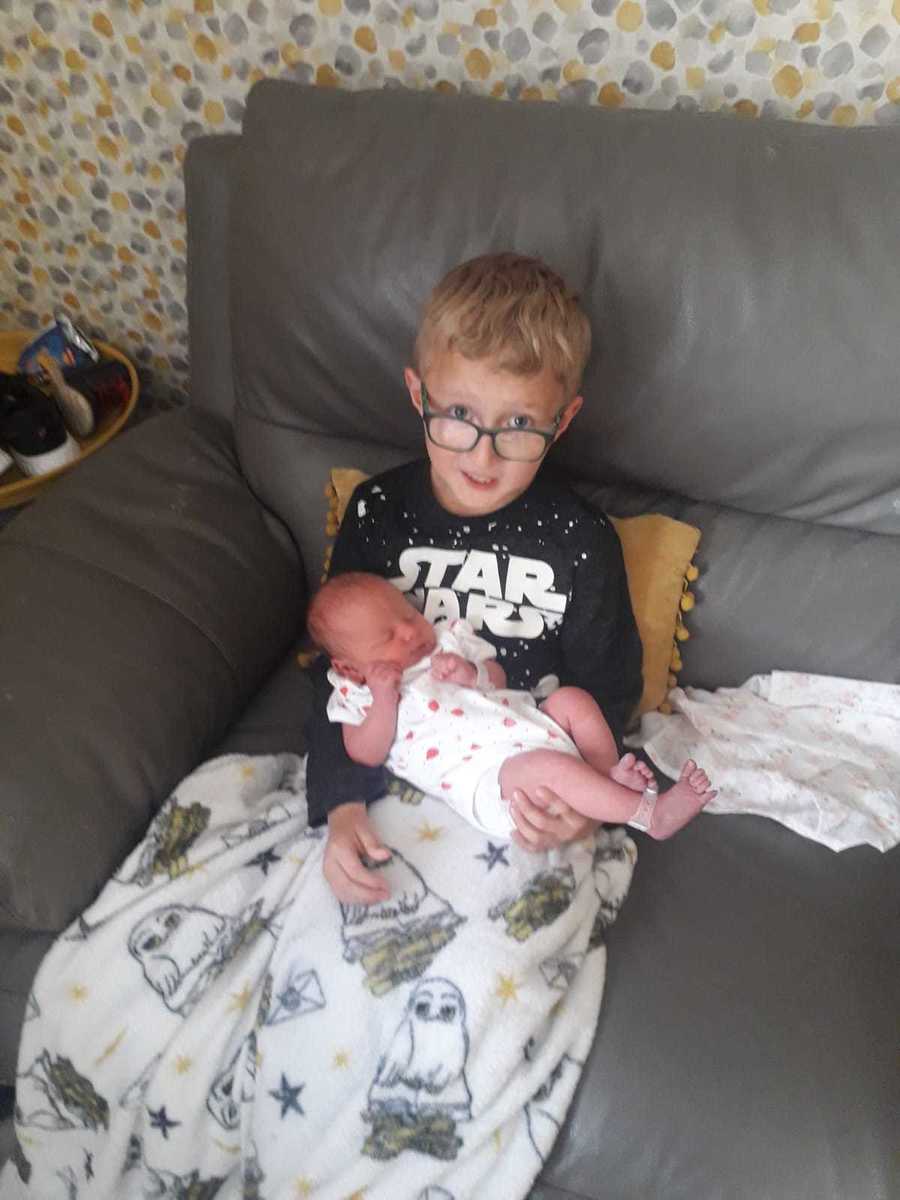 Charlie has had an exciting bank holiday weekend. On Saturday he got a lovely little baby sister. She is called Bonnie Mae. Charlie is already helping to look after her and proving to be a caring big brother. Charlie has two other sisters and one other brother. We wish his family well and look forward to meeting her when we will all be allowed back into school.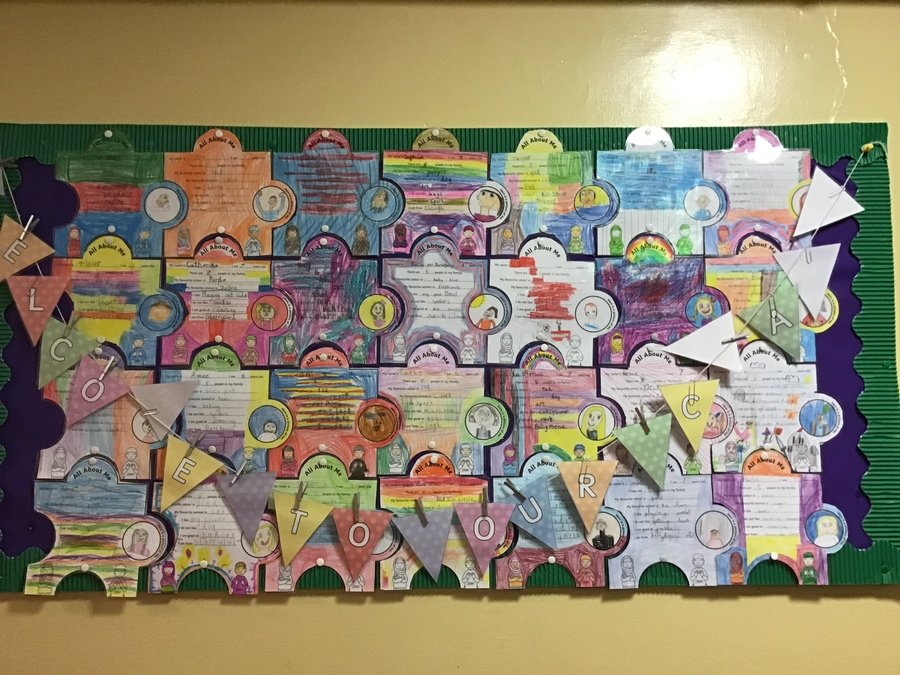 We then investigated "The Great Fire of London" when looking at the World Around Us. As historians we looked at sources- photographs, reports and diaries. We have really enjoyed this topic. We put together an amazing display. What do you think of it?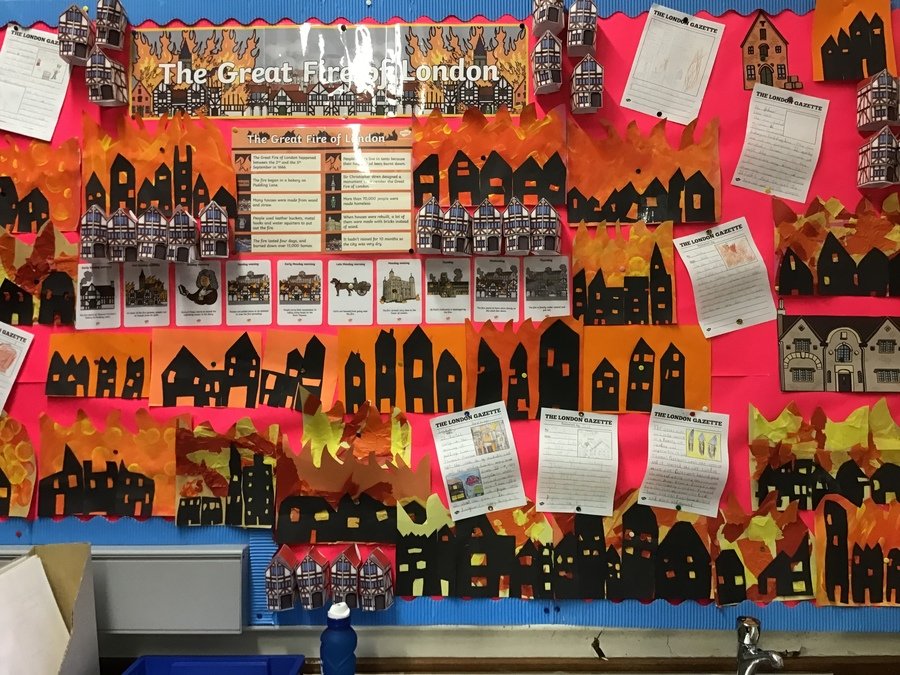 In our mathematics recently, we have studied Angles. We went for a walk around our school and using our I-pads we took lots of photos of right angles. We put this together as a collage and displayed it in our classroom. Have a little look at our work!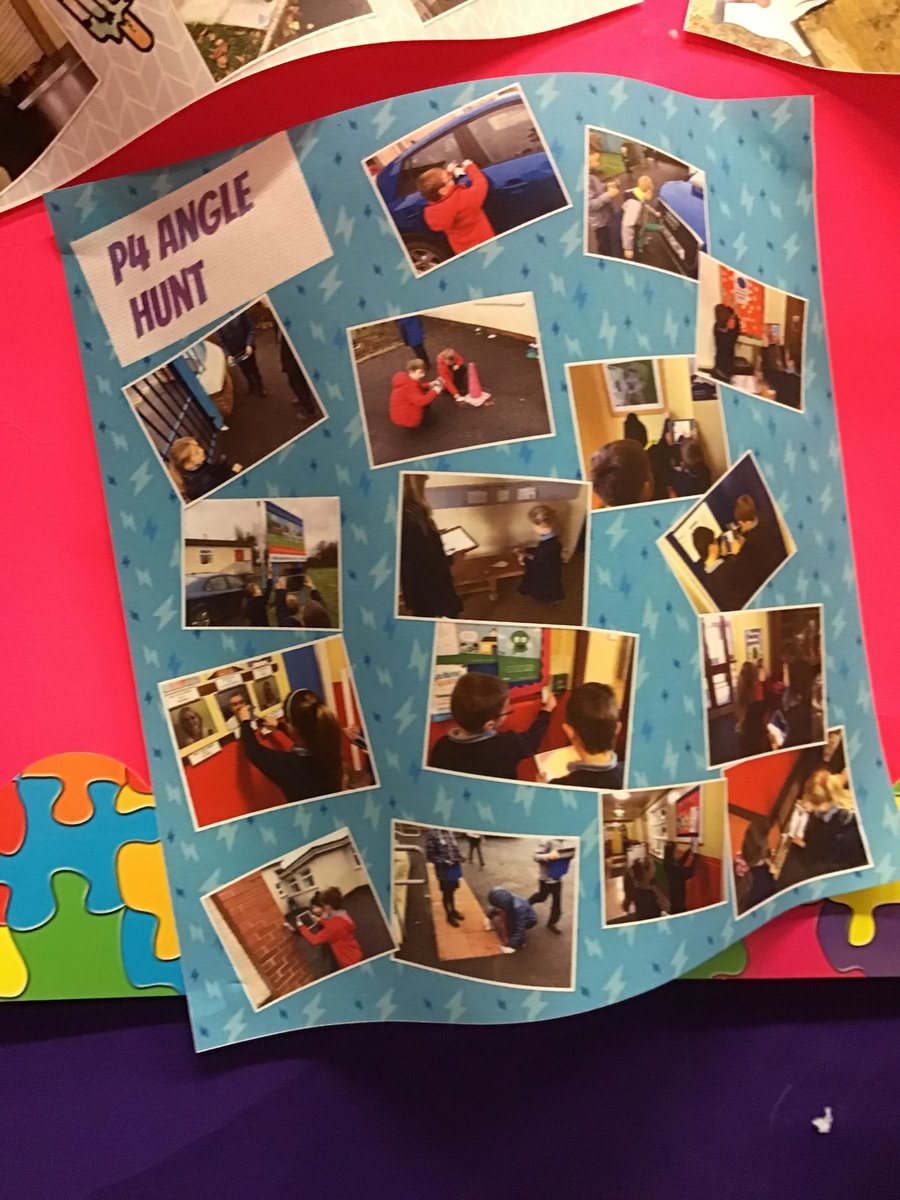 Practical maths this term with P4 included using Diennes Material.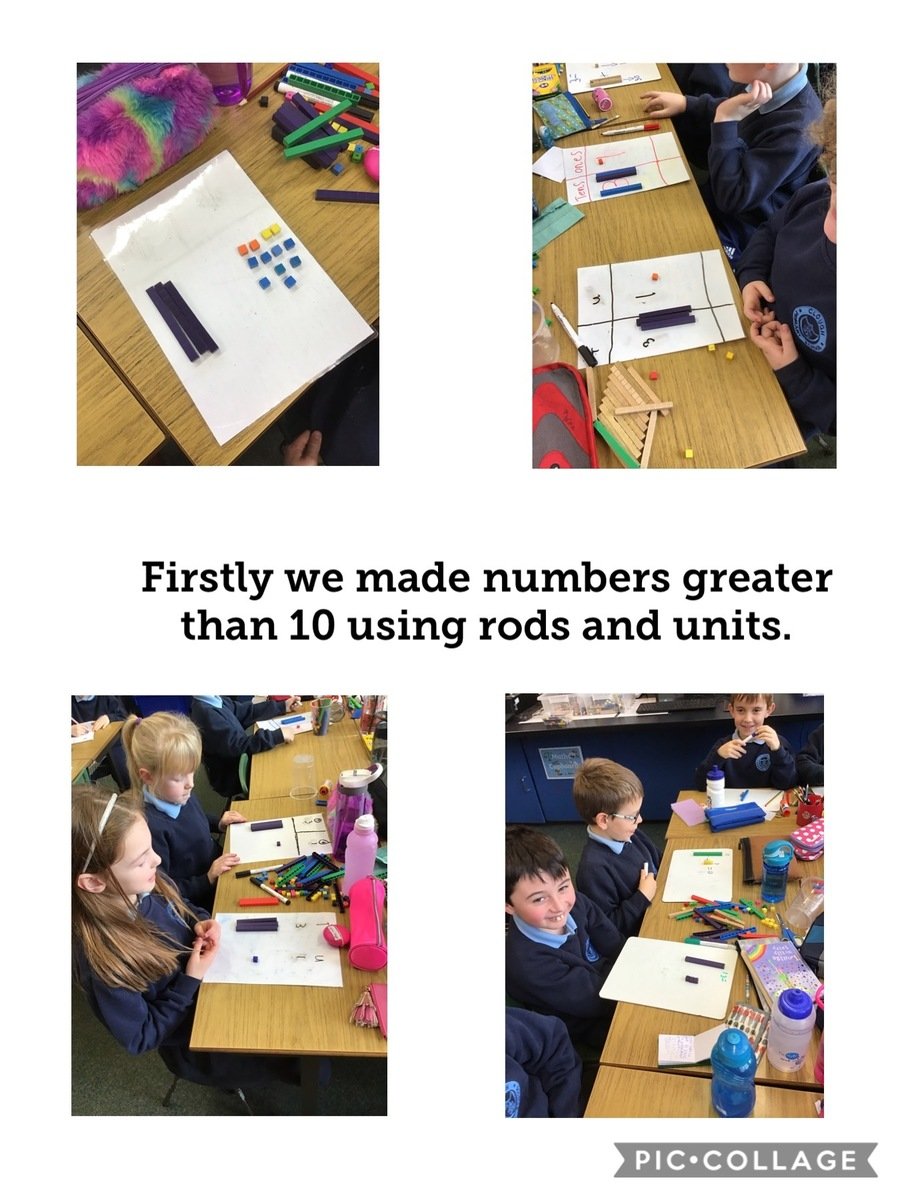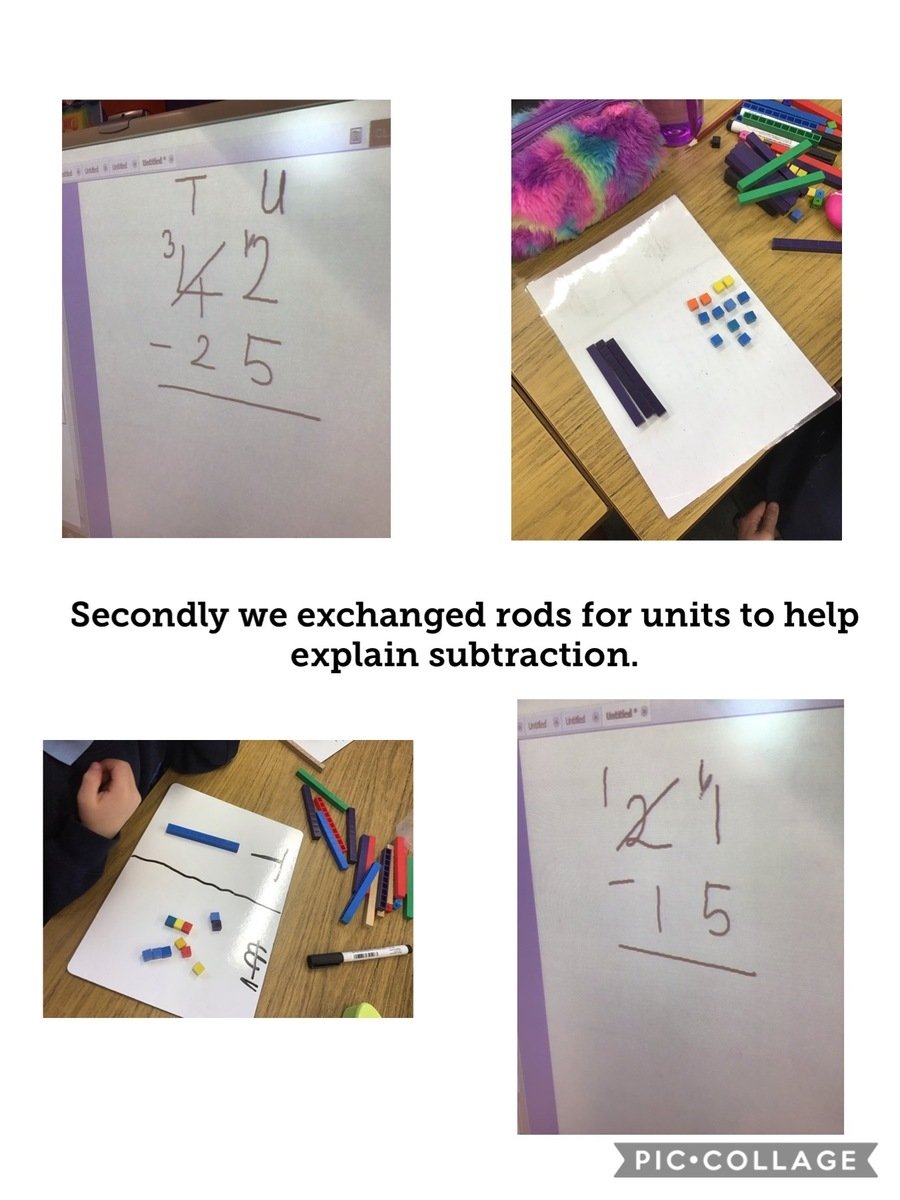 P3 and P4 used practical games during their Literacy time.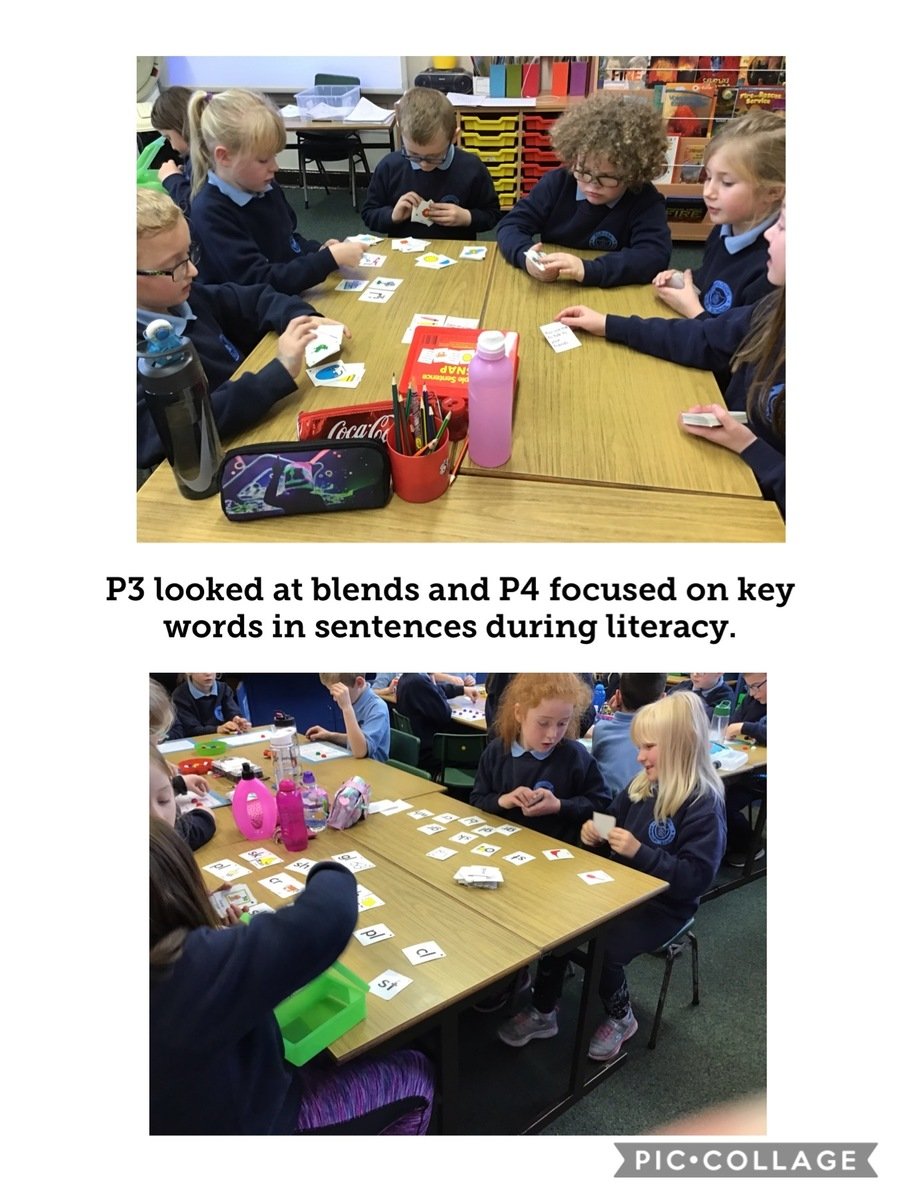 We are now looking forward to Christmas, as are all of our parents!!!! Some of us even have the days counted We will be doing lots of exciting and fun things with a Christmas theme. Follow our page to see what is happening next.
Look at P3/4 in their lovely Christmas jumpers. Don't they look so festive!!!! As well as looking good they raised money for Radio Cracker. A fun day supporting a good cause. Look who also dropped into school!
P3/4 made lovely Christmas cards. There was lots of maths in this enjoyable activity. Circles were cut out and folded in half. The circles were then stuck together to form a 3-D image and added to a long and a short piece of string.
It is a new term and a new year. Welcome to 2020.
P3 get right into the heart of practical maths.
We have a new topic which is perfect for a dreary January...... Chocolate...
We can't wait to eat right into this topic. We have already done lots of research and found out that chocolate relaxes you. We also discovered that it takes 400 cacao beans to make 1lb of chocolate. That's amazing!
P3 and P4 are very proud of this display showcasing all of the skills we utilised as we studied Australian Bushfires.
These cold days demand warm pancakes to eat. How yummy!!! P3/P4 enjoyed learning about Pancake Day and they can now help their mums making a delicious snack.
Good morning Primary 3 and 4. I hope you are all well. By now you will have received your home packs and should have had time to have a little look through them. Don't panic!! This work doesn't all have to be done in one day or even one week. You should keep working at it over a number of weeks. Follow the guide in the packs telling you what to do and when to do it. Do some numeracy and some literacy every day. You should also keeping working at your tables and spellings daily and get an adult to ask you these at the end of each week. This is really important, because you will need to know all these things when you go into your next class.
Read the instructions on each page carefully and work out what the questions want you to do. If you are stuck, try to go onto the next part. That may help you! If you are really stuck ask an older person in your house. I have given you notes in the booklets to help you. Don't panic if there is something you can't do, just leave it. However don't give in easily. This is your chance to show your parents what you can do all by yourself. I know you can and so do you. Keep in touch with me through this page. I will post answers if you need them and you can get your mum to email Mr Hutchinson if they need advice. I am thinking of you all. Keep safe and remember to get outside each day for some exercise.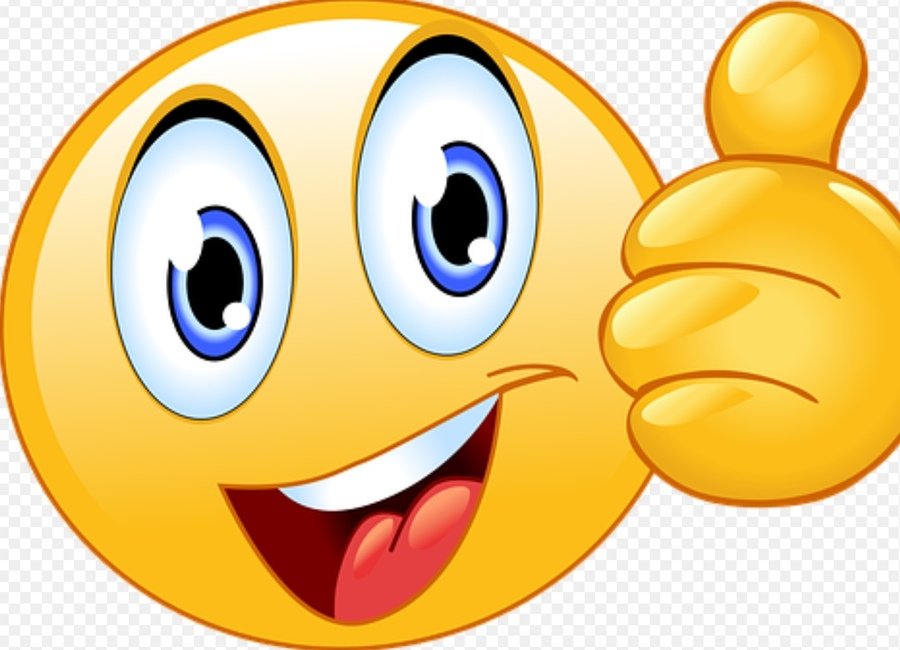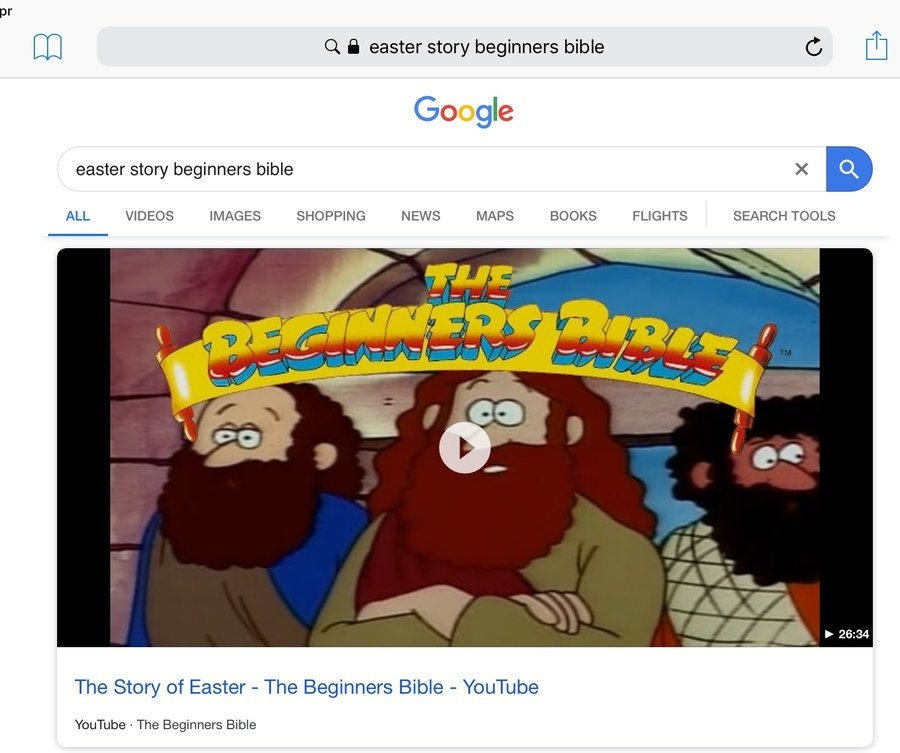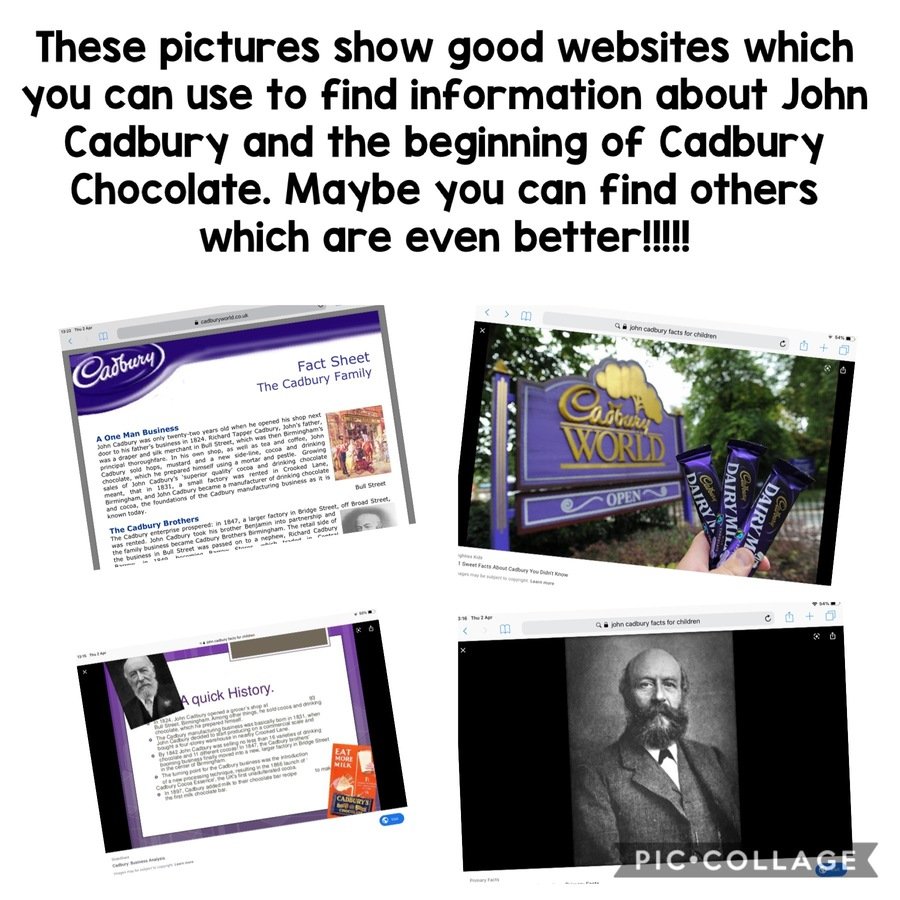 Holly and George have busy learning at home. During art lesson they designed a poster to say thank-you to our wonderful NHS. We are delighted with their good work. This definitely gets a thumbs up from all at Clough.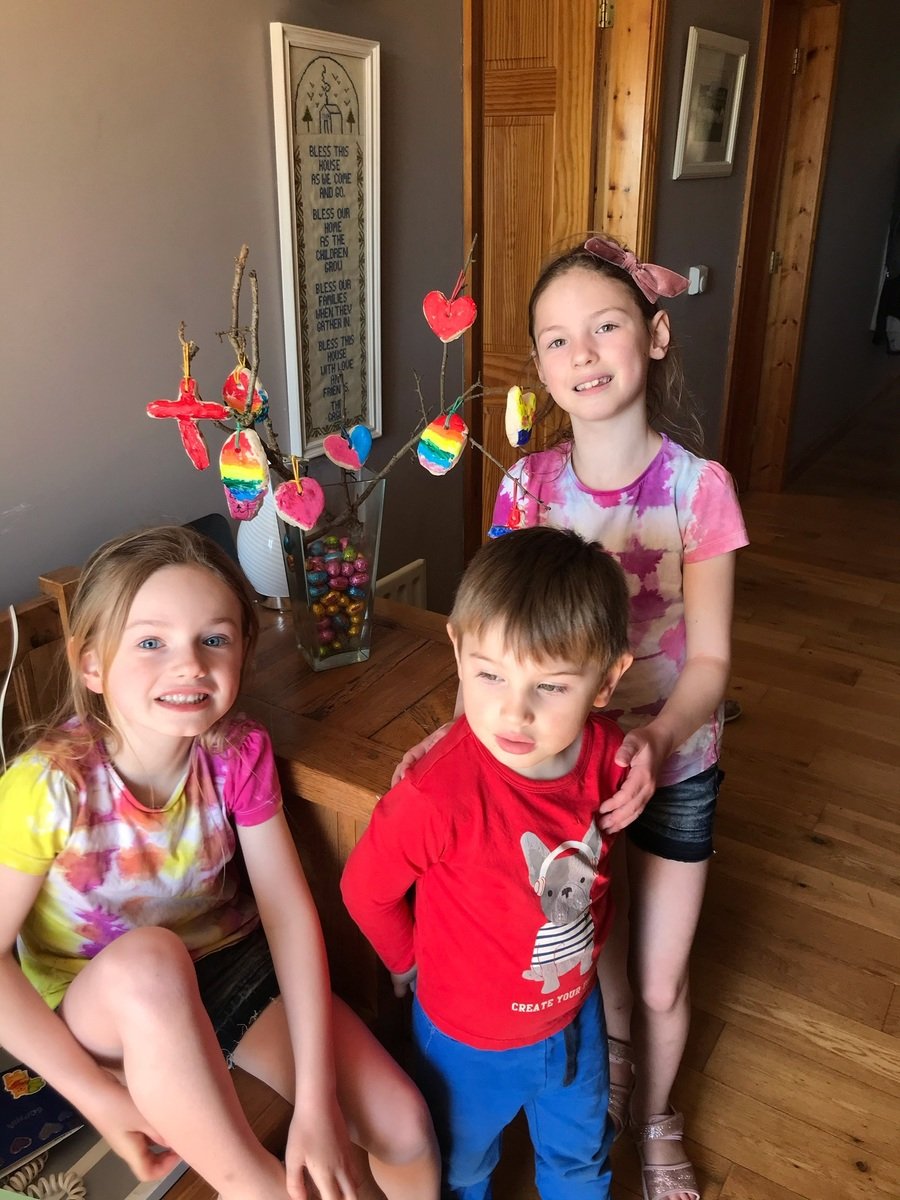 Sophia, Amelia and Jackson have all been busy making dough decorations and painting them to say thank you to our NHS workers. Lovely work from the Gage children.
Here are some pictures of the busy P3 and P4 class in Clough Primary School during lockdown. I'm not sure if you are all working really hard but you are definitely having fun and that is all part of learning. See who you can find- you might even see yourself!
Look at these busy children in P3 and P4. Robyn has been doing some craft work to say a big thank you to the NHS. That is so thoughtful Robyn and your rainbow is fantastic.
John has been busy with lots of creative activities. He was baking lovely looking buns, doing some gardening and artwork as well. I think you could open a shop and sell all those things!! I know some people who would definitely be visiting your shop John.
Khyia spent some time baking and cooking. She made soup and a fabulous looking cake. I am sorry we are not at school so you could share your cake with your teachers. Remember all the adults in P3/P4 need the biggest part!!!! We could even do fractions with your cake Khyia.
Well done to these two budding entrepreneurs. Inspired by Captain Tom Moore, Carley Croskery in P3 and her sister Lucy in P2, decided they too wanted to do something to raise funds for the NHS. They have made some rainbow badges which they are selling and their aim was to raise £50.00. They have already exceeded this amount by far!! They are wearing their badges; if you look at their jumpers you can see them. Super work girls and even though you may not have known it, there was lots of learning in your good work- maths, artwork, language and PDMU, but to mention a few. We are so proud of you, but remember no one in Clough School is as old as Tom Moore, not even your teachers.

Look at Charlie doing his daily exercise. Not only does this look fun but it keeps him fit and healthy. I wonder could any of our teachers do this Charlie, what do you think?