25th May
Hello again boys and girls,
I hope you had a lovely weekend and are also enjoying time off school work today and tomorrow! You only have to do school work on Wednesday, Thursday and Friday this week. It looks like the weather should be quite good so that you can get outside to play. Perhaps you can get ready for our sports day.
Mr. Hutchinson gives me school work to do every day ,so like you , I have to settle down, find a place where I can concentrate and then get my work done. I hope you are working hard for your parents at home and are doing your best.
Thank you so much to those of you who sent photographs of what you have been doing. I am always interested to receive your emails and pictures or videos. Please do keep sending them.
Lots of you have told me you miss school, your friends, Mrs Gregg, Mrs Nicholl and me. We miss you all too but we know that you are better to stay at home to stay safe and well, so until we can get back to school work hard at home and enjoy this special time with your families.
Best wishes
Mrs Stewart
Emilie, thank you so much for the lovely letter you sent to me. I miss you too and look forward to seeing you and I'll tell Mrs Gregg and Mrs Nicholl you miss them too. You have been working so hard and I am so pleased you are reading with your Daddy and to your little sister. I am very impressed with the writing you have been doing too. You described the characters well and I love the letter you wrote to the care home. I'm sure the residents and staff were very pleased to receive such an encouraging letter. Keep up the super work you have been doing at home.

Amelia, thank you so much for the well written letter with beautiful pictures. I miss you too and wish we were able to go to the playroom too!
You have been very busy doing brilliant things with Sophia, Jackson, Owen and Nate. I'm sure your pizzas and cake were delicious. I showed my daughter your NHS cake as she is a dietitian working for NHS. She said it's beautiful.
I hope your sunflower seeds grow . Please measure them and let me know how tall they grow.
Enjoy your dressing up adventures. You could write me a story about one of your pirate adventures. Well done, lots of super home schooling going on in your house.

Daniel proudly wearing the rainbow badge he bought from Lucy and Carly who are making these badges to raise money for the NHS.
Wow Isobella, you have been busy doing lots of indoor and outdoor arts and crafts. These are just beautiful. Your buns look delicious and you are making me feel hungry!! You look very happy playing with your little sister and I see you have lost a tooth. I hope the tooth fairy came. Keep up the super work you are doing.

Stephanie, it is lovely to see you having so much fun outside and helping your mum and dad. You have done a great job with all those plants. I will miss getting my strawberries from your dad this year. Thank you for your letter and for sharing the facts about VE Day. You have worked hard. Well done!

Happy birthday Ewan! You look so happy with your special birthday cake and presents. It sounds like you had a very special day! Thank you for sharing all the fun things you did to celebrate VE Day. Well done!
18th May
Hello Girls and Boys,
We have completed another week working from home and although it is still strange, it has been surprising just how much we are all learning. Thank you to those of you who have forwarded emails to let me see what you have been up to. I will put your work up on this page so let's see how many of our 26 children will have work on our page.
I hope you are doing some of the activities for sports day and are gradually improving. Keep up the hard work.
If you were in school at this time we would be doing lots of revision and for homework you would be revising all your tricky words/spellings and the tables you have done throughout the year. Please do this at home so you know them really well. Do you know the name and sound of each letter and the 2 letter sounds and can you give a word beginning with these sounds?
Keep doing work from your pack and if your work is finished I am getting another revision pack ready for the month of June. Don't panic if you still have enough work as this work covers all you need to do and I know many of you are doing lots of practical work, making your own games, playing games, developing your fine motor and problem-solving skills by building Lego and learning by helping at home. See Mr. Hutchinson's letter on the website to tell your parents how to avail of this revision pack if you need it.
Work hard for your parents who are learning too and are very busy doing lots of things.
I can't wait to have you all back at school but in the meantime we will learn what we can at home as we want to stay safe.
Best wishes
Mrs Stewart
11th May
Hello Girls and Boys,
It seems so long since I saw you all. Mrs Gregg, Mrs Nicholl and I are missing you but we know that you are better to stay at home and stay safe.
I love receiving your emails and seeing pictures of what you have been doing.
Thanks to those of you who sent pictures of things you were doing last week. (Pictures below)
This week make sure you have registered for sports day (details on homepage) and start to do some of the activities. I'd love to see some photos so please do get help to send them to Mr Hutchinson.
Keep doing some work from your pack or from the websites Mr Hutchinson recommended.
Have lots of fun and stay at home to keep safe.
Best wishes
Mrs Stewart.

Daniel you have done lots of great work on VE Day. I loved seeing the great facts you have written and the beautiful bunting you made. Great idea to find the countries on a world map.
You have been very busy baking, going on your scooter and playing with your brother. I'm glad the tooth fairy came when your first tooth came out. Thanks for the letter and the photos.

Issac, thank you for your photos. You look so happy and I can see you're having lots of fun paddling in the stream, baking buns, helping daddy on the farm and playing with Olivia and Harry. Keep working hard.

Zara, thank you for your photos. I can see you have been working very hard on the theme VE Day. Your newspaper article was detailed and I'm so pleased you had a party to celebrate with beautiful bunting and a super cake. I hope you had a great day.
Well done.
Lucy and Carly raise money for the NHS.
Wow! Lucy and Carly what a super idea to raise money for the NHS! This is a great way to learn lots of new things. I know that there are lots of things to learn to do this: the colours of the rainbow, price of stamps, working out the cost, temperature of oven and lots more. Super home schooling activity! Well done, I hope you make lots of money!
4th May
Hi to all my P2 and P3 girls and boys,
This week you only have four school days as Friday is a holiday to commemorate VE Day.
I can hear you asking what is VE day?
In school we would discuss how we could find out and you know to ask someone, look at books/photographs, ask Google etc so that's what you need to do!
It's an important day to remember, so with the help of an adult, find out as much as you can and then write a few facts and please email them to Mr. Hutchinson so I can see what you found out.
Look for art/craft ideas to do with this and write an invitation to your family to a party to celebrate. Plan a party, write a list of party food, games to play, make play doh food or mud pies! You might even make a real cake! Send me the pictures please!
The weather is again looking good for this week so get outside and be active in addition to doing some work from your pack.
Still missing you all but realise that it is more important to stay at home and be safe.
Have fun
Mrs Stewart
More examples of great work being done at home..
Thank you Ewan for the lovely photos and lovely message. Mrs Gregg, Mrs Nicholl and I miss you too and we are so glad you had a lovely Easter.
Ewan made bunnies and baked Easter buns, had an Easter egg hunt, rolled boiled eggs and had a picnic in his field. He has been feeding lambs and knows how to use the swing on his own! Well done Ewan. You are having lots of fun. Stay safe!
Lilly-Mae, thank you for sending these lovely pictures and it's great to see you are enjoying finding out new things about space and doing work from your pack. You said you were missing school and can't wait to get back. I'm missing school too but in the meantime we will stay at home to keep well and stay safe.
27th April
Hi girls and boys,
I hope you had a lovely weekend and enjoyed being outside in the lovely weather.
It's Monday again and the weather is a little cooler so hopefully this will encourage you to get your school pack out and do some work.
I've got my school pack out today and doing tasks that Mr. Hutchinson has asked me to do. I have school work to do at home too!!!
I get excited to receive pictures of you doing your work at home so please keep sending these and they will be put up on this page.
Keep up the good work you have been doing!
Missing you lots.
Mrs Stewart
Great examples of work being done at home!
22nd April
Welcome back to school at home! I hope you all had a lovely Easter holiday doing lots of fun things at home . I'm sure like me you had lots of 'sometimes' food and too many Easter eggs!
You have literacy and numeracy work to continue on with in your packs and remember to do some activities from the grid too. There are also lots of activities online that I have highlighted before, such as Jo Wicks PE, Music by Mylene Class or Jo Jingles and Mr. Hutchinson gave you a list of suitable sites for further activities.
I have loved seeing photos of what you have been doing. Thank you for taking the time to send these. Please do keep sending them to Mr. Hutchinson at ihutchinson429@c2kni.net and I will post them on our page.
Work hard and do your best. It is strange to be working from home for me too and I miss all the interaction with you all.
Best wishes
Mrs Stewart
6th April
Hi boys and girls.
I hope you are all well. I really am missing you and I hope you have been working on your pack, but now you are on 2 weeks holiday! Yeah !! No more work from your pack for that time.
There are some Easter activity ideas for you to do during the holidays and you can also download some games which are at the end of this note.
Play Based Learning
In Play Based Learning at Easter time these are a few of the activities we like to do:
Using playdough make a little Easter Bunny, chicks and some Easter eggs – can you make a nest to put them in?
Make an Easter basket out of junk materials.
Easter egg hunt inside or in your garden – can you count them as you find them?
Teddy Bears Picnic – if the weather is nice or even on your living room floor, why not have a teddy bears picnic with your soft toys and teddies.
Make chocolate Easter nests with chocolate and shredded wheat or even rice krispies.
PE
Keep up your PE with Joe Wicks. Try an egg and spoon race with your family in the garden or see who can balance the egg on the spoon for the longest time! How many times can you go around your garden hopping like a bunny?
Music
At 10am every day, search for Myleene Music Klass on YouTube to learn about music.
I really would love to hear how you all are so if possible ask an adult to help you send an email to Mr Hutchinson who will pass it onto me. Perhaps you could send a photo of yourself doing some of your work or suggested activities. I look forward to hearing from you.
Have a lovely Easter break and remember to stay at home and be safe.
Mrs Stewart
30th March
Hi girls and boys,
It is strange to be working from home and I am missing your stories and seeing your smiling faces as you come through the classroom door. I hope by now you have had a look through your packs and have started to do some work for your home teacher! I hope you are staying at home and are safe and well.
I know how much you all love P.E. and exercise is very good for you so weather permitting try to get exercise outside every day. A great way to start your day would be exercising with Joe Wicks who is live on You Tube every morning at 9.30.
If we were at school this week we would be hearing the Easter Story. You can find this in The Beginners Bible on You Tube.
Do some activities from the suggested home activities sheet & find activities on the internet from the suggestions on the letter Mr Hutchinson sent home.
You only have to work this week and then you have 2 weeks off for Easter holidays.
Remember to ask an adult for help when using the internet and remember all the internet safety tips you were given in school. Listen to the song on this page to remind yourself.
This is a rough guide for you to follow each week while we are working from home:
P2: Literacy
Learn 2 new tricky words
One Phonic worksheet
Write a story
Write sentences using the tricky words you learn during the week
One sheet from the pack that starts with rhyming words
Read and try to spell one group of words from the first 100 key words
Read books you have at home or on the internet
Choose some activities from the home activities sheet
P2 Numeracy
Complete one booklet each week
Continue learning tables subtracting from numbers up to 10, starting this week with take away 4, next week take away 5 etc
P3 Literacy and numeracy
Work through your packs systematically, completing approximately one literacy and one numeracy booklet each week.
Remember to read books you have at home or you locate on the internet.
Complete spellings and tables in homework booklets and don't forget to do the activities. Learn spellings and tables well.
Try to write a story each week.
Complete one mental maths test each week.
Read and spell the words on the key words sheet.
I know you are all capable of completing the work in your packs with a little help from the adults in your house. Listen carefully and do your best. Remember it is ok to make mistakes, we all learn from them, including adults.
Parents and children, enjoy this time together. Be patient with each other and try to have fun times together at home. Lots of learning takes place while playing games together.
Best wishes for the weeks ahead.
Mrs Stewart
Hi boys and girls,
I am missing you all already and hope that you are all enjoying your first few days off, even though you have to stay at home. You will soon have your packs from school which will include some work and also ideas for other activities. Work well for your parents and always do your best.
Mrs Stewart
Making valentine cards by printing..
Learning about internet safety
We listened to the story of Smartie the Penguin...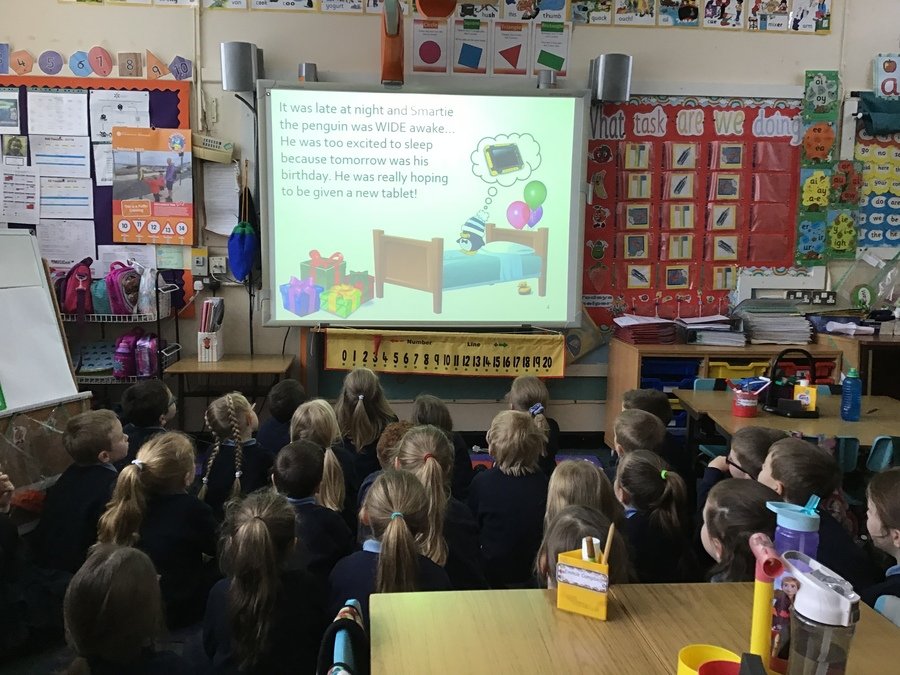 The song will help us to remember how to be safe on the internet..
Transport Topic
Visit from Mrs Eva Gage today to talk about her job as an air hostess..
The Firefighters explained to us about what they do and showed us the equipment they use and the different parts of the fire engine..
Sorting means of transport
Activity based learning..
Writing and giving instructions..
Speak out stay safe message from NSPCC..
Look who came to visit us today in class for a PDMU lesson...
Learning about length in P2/P3