Congratulations to everyone who helped us gain our Green Eco Flag Award. This involved many hours of work from parents, pupils sons staff. We are very proud of our achievement. The photographs above are just a small selection of some of the activities we did to get it. Well done us!!!!!
Hi boys and girls. We hope you are enjoying the lovely weather. Keep sending us your photos of all the exciting things you are doing. Here is Alfie taking part in our virtual sports day. Well done Alfie, you are running and crawling and moving so well! I hope the egg didn't fall off the spoon. Keep it up!
Be sure to check out our Mr Hullabaloo Facebook page and you tube channel for lots of inspiration and ideas to support your child's learning in a way that is interactive, engaging and fun!
To find out more please use the links below
Facebook:
https://m.facebook.com/Mr-Hullabaloo-1458096697759418/?ref=page_internal&mt_nav=0
You Tube:
Mr Hullabaloo
NURSERY VISITS PORTGLENONE
The Nursery School went on a visit to Portglenone Forest. Liz, from the Forestry Commission, walked around the forest with us. She told us stories as well as pointed out the beautiful changing colours of the leaves, building homes for hedgehogs and we also searched for some bugs. After our busy trail we then finished our day by having our picnic. We had lots of fun!
HULLABALOO VISITS CLOUGH NURSEY
Nursey enjoyed a visit from the Hullabaloo Theatre Company. The children watched the puppets perform stories such as 'The Enormous Turnip' and 'Goldilocks and The Three Bears'. They also enjoyed dressing up to help perform the stories.
MUMS, DADS AND GRANDPARENTS LEARN MORE ABOUT THE NURSERY DAY
Mums, Dads and Grandparents were all invited to a 'stay and play' session. While enjoying tea and coffee, the parents listened to Mrs Scott as she outlined the structure of the Nursery School Day. She was able to explain the area's of play in Nursery and how they influence the children to play in the different areas available to them.
Look at our Gage cousins. Jackson is busy making dough decorations to thank the NHS staff. He has been working on his numbers and letters mat. Elsie has drawn round her feet to create this lovely butterfly. Don't they look fantastic!!!!!!
Two of our Nursery ladies are out and about enjoying the lovely weather. Elsie has a beautiful bunch of daffodils. I hope they are for her mum! Eva has a lovely crown on her head as she thanks the NHS staff. Just perfect girls.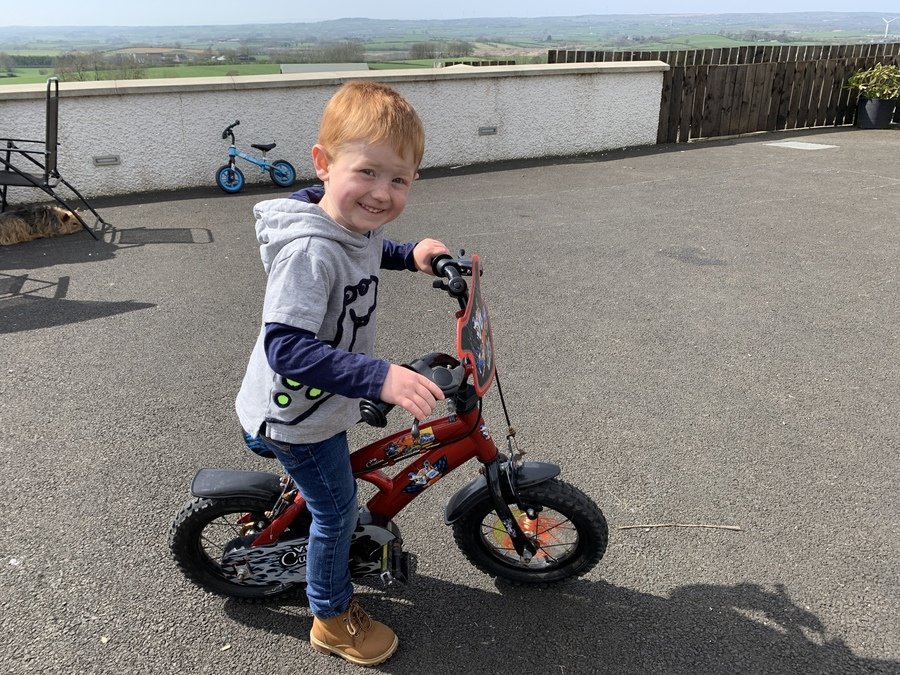 Braxson has been learning how to ride his bicycle without stabilisers. During the good weather he was practising lots and lots and learnt how to ride without any help. Well done Braxson, we are so proud of you!!!!
Look at Harry with his brother Isaac and sister Olivia. They are having great fun on a warm May Day playing in the stream. I wonder did you find anything exciting in that stream Harry? Let us know if you did.
You all look so busy. We love to see your photos Nursery so keep sending them to Mr Hutchinson and we will get them uploaded. Tell us about what you have been doing or anything exciting that has been part of your day. Everyone in Nursery is missing you and we hope to see you soon.